Signs
More than 60 percent of customers first learn about a business because of their signs. On premises signage is the best use of a company's advertising money and is the only way to capture impulse sales. Signs can help consumers remember the business's location, products and services. We can help you to achieve this with our range of signage services. Signs are not only for advertising, many public places require safety signs for many reasons and we can also create these for you following your tight guidelines. Please see below for our full range of sign products and services.
Correx Signs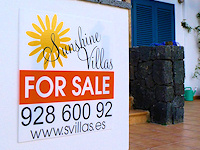 Correx is an economic and lightweight material constructed like corrugated cardboard with a hollow box tube centre, but made from a cellular polypropylene extruded sheet. It is light, rigid, very cost effective and being waterproof means it is suitable for both internal and external use. This type of sign is commonly used for estate agent signs, but can serve many other signage requirements.
Correx is available in White, Black, Silver, Red, Green, Yellow and Blue but if a different background colour is required, it can also be covered with any one of our wide range of vinyl colours.
Magnetic Signs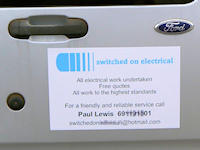 Magnetic signs are a quick and easy cost effective way to advertise any business or service. They are quickly removed so are perfect for use on cars, and vans. If your vehicle is used for both business and personal use or if you use short term vehicles for your business then magnetic signs would be perfect, and reduce signwriting costs by allowing your signs to move from vehicles to vehicle.
Your custom sign design will be applied to a flexible 0.85mm magnetic sheet that will attach to any surface that allows magnetic attraction. Magnetic sheeting can be cut to any size to suit your vehicle or surface. The standard base colour is white but as always, this can be customised with the use of any one of our wide range of vinyl colours.
Perspex Signs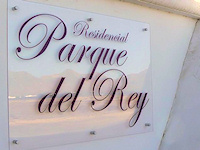 Perspex is a type of acrylic sheet that is strong, light and durable. Perspex is available in many thicknesses, colours and finishes. Perspex gives an elegant glass like finish to a sign, but unlike glass perspex doesn't shatter making it safe for public places. It can be mounted using screws, nails, adhseive or post mounted. Perspex is waterproof so is suitable for both internal and external use.
Perspex signs can be cut to almost any shape and size and are availble in a wide range of colours which can also be customised using any one of our wide range of vinyl colours.
Informational Signs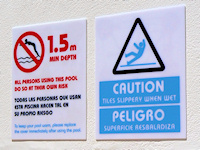 Just about everywhere in life, signs are used to communicate important regulations, directions or hazard awareness information.  In addition to signage promoting your business, we are also able to offer a wide range of informational signage products and solutions to communicate in a clear, concise and practical manner.  Our informational signs offer a smart way to display what may be an otherwise dull message.
From rules and regulations, to directional and location signs, to hazard awareness and warning signs, we are able to offer signs in many shapes, sizes and materials to suit their purpose.