Wall Art
Vinyl wall art is becoming a more and more popular way to transform your home. Do not underestimate how vinyl decals can change the look of any wall.
They are known as many names such as wall tattoos, wall decals, wall transfers and vinyl wall art. Whatever you call them you can have beautiful art on your walls in minutes and they are removable without damaging any paintwork. Not everyone is good at decorating and with stenciling being very dated this is the option for you.
From wall words to flowers to personalised names, we can custom design anything you would like to match your colour scheme and room theme.
Please do not hesitate to contact us with any queries or ideas for your project.
Alternatively please visit our ebay shop for current designs we offer delivered worldwide.
Children & Nursery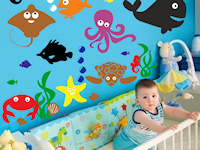 Our range of children and nursery stickers are a fun, fantastic and very affordable way of bringing any child's room to life.
We all know how fussy children can be and how quicky they grow up and move on to the latest craze. Who wants to spend £100's every year on new wall paper when you can spend so little on making their room unique.
They are so easy to apply even the children can help you to transform their room.
Why not take a look at our amazing under the sea kit or cute little monsters collection.
If that doesnt take your fancy contact us today and tell us what your child wants and we can help.