Vinyl Graphics
In today's market, business owners are looking for an edge, something that sets their product apart from their competition.
Vinyl graphics have been around for many decades and used on cars, lorries, shop windows and walls. The main reason to add vinyl graphics to something is to make it stand out as "different". To have something unique that no one else has. Something that will catch someone's eye, make heads turn and make people look twice.
Whether you are looking for something subtle or radical we can help. Please see more information below on products we offer.
Please do not hesitate to contact us to discuss your needs or any ideas for your new project.
Vehicle Graphics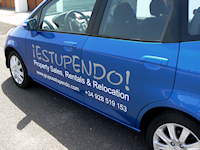 Vehicle graphics are a great way of strengthening your brand identity and giving your business a professional image. Whether you have a car, van, trailer or bike our professionally designed and applied graphics can put your message on the road and attract new business. Wherever your vehicles travel to your name goes along with them, your vehicle will become a valuable asset to your companies advertising.
Vehicle signage is very cost effective and a long term investment in your business. Its profile will go on for years as all of our graphics are of a high quality and long lasting. Your vehicle graphics can be as simple as text, letting future customers know your contact details or can be a more elaborate design including your company logo using many colours.
We will evaluate your vehicle(s) and discuss with you the suitable options for design and fitment of graphics. If you have a range of vehicles that require graphics, then individual designs can be applied to each vehicle to best fit its surfaces, modes of use, and any individual driver preferences there might be.  We can also fit vehicle graphics to the rear or side windows of your vehicle for a more subtle, but still highly visible result.
Window Graphics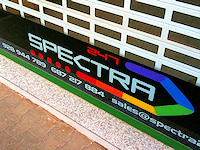 Window stickers and graphics are a great way to promote your brand in high exposure areas, and attract passing custom into your company premises. They can be installed on any size of window, from the small office to large shop frontage.
Whether it is simple text containing your contact details, a more elaborate logo or a large SALE graphic advertising that all important promotion, window graphics can be very cost effective and can continue to work for your business for many years given the correct care. They are also a perfect temporary advert for a sale or promotion as they can also be easily removed without any damage to the window.
Whatever the requirement, we can create a tailored design to fit your window measurements and requirements, and provide a full and professional fitting service to ensure that your graphics look their best and are installed for maximum longevity.
Wall Graphics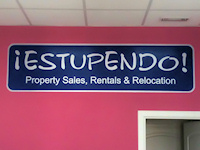 Not every business has a window front or a fleet or vehicles to get their business noticed. Vinyl wall graphics can be a very powerful tool for advertising your brand. You logo, message or design can look fantastic on any blank wall in your office, shop etc.
Why pay for an expensive mural when you can have an amazing vinyl decal that can be removed without damaging the wall if you should leave.
Imagine having your logo cut and displayed behind your main reception desk making an impact when customers enter your building. We can help with any wall size, big or small and to suit any budget.