Decals
Decals (also known as stickers) are vinyl labels that are made especially for smooth surfaces. They are easy to apply and also easy to remove and they do not leave any residue once removed.
Our deals are made using the highest quality vinyl material and precision cut using a specialized machine.
See below for our decal ideas and uses.
Car Club & Forum Stickers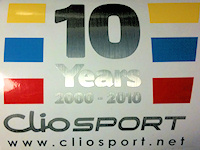 We are a big supporter of car clubs and online web forums. Stickers are an excellent way to increase the clubs presence and help raise profits for events and shows etc.
We currently work with some of the best car clubs on the internet; Cliosport.net, CleanedUK, Cliotrophy.co.uk, V6Clio.net, Twingo133.net and many more.
Most car clubs or forums promote a member who is in charge of ordering and sending car stickers to members, we suggest ordering in bulk to receive better value for money but also we are happy to help with smaller orders as we understand some clubs have smaller budgets than others.
We can take your exisiting logo and turn this into a sticker, or if you are a new club we can help you to brand with your very own unique logo.
Contact us today for a no obligation quote